P2 Rewards
P2 earn rewards at an individual and whole class level.


When a pupil earns 10 'Smiley Sticks' they get to pick a reward from the prize box.


As a class, we work together to fill our 'Good Choices' Jar with pompoms. We then vote for our whole class reward.
What will P2 be learning in Term 2?
Literacy :
Independent Writing – news, topic related writing - castles, knights, Jack and the Beakstalk
Guided Writing - Narrative Writing
Role play – Castle
Shared Reading – topic related books
Topic books – fiction and non-fiction
Phonics - Stage 3 and Stage 4 of Linguistics Phonics
Handwriting- Cursive script and capital letters
Listening- weekly listening activities
Talking- talk about their personal experiences of castles. Formulating and asking questions about our trip to Dundrum Castle, circle time.
Numeracy:
Working with numbers up to 20
Mental maths- counting forwards and backwards, numbers before and after, adding on 1, doubles, number facts, odd and even numbers
Addition and subtraction
Problem Solving
Topic- area, measurement, 3D shapes,
Money - recognising all coins and learning to pay for items
Data Handling
RE:
Old Testament bible stories
God's Armour
Action Bible Songs
Creative:
Drama
Take on the roles in the castle
Act out topic related stories, e.g. The Royal Dinner, Jack and the Beanstalk, The Kiss that missed, The Princess and the Pea
Hold a Royal Banquet
Music
Song – Songs about castles
Musical Instruments
Art
Junk Art – build castles
Coat of Arms
Craft linked to castles e.g. stick puppets, decorate crowns for banquet, planting beans (linked to Jack and the Beanstalk)
Weekly cutting activity - crown, castle etc
PE:
Changing for P.E independently
Listen to and follow simple instructions/rules.
Fundamental Movement Skills-
Know how to move in a variety of ways to explore personal and general space.
Know how to move safely and confidently
Respond appropriately to the instructions.
PDMU:
NSPCC 'Be Safe'
Unit 3
Helping Hands
World Around Us:
Why were castles built?
Materials used to build castles
Parts of the castles and how they defended against their enemies
Knights - their training and Jolly Jousts
Jobs in the castles
How buildings have changed over the past.
Visit to local Dundrum Castle
ICT:
Log on and Log off independently
Bee Bot
Word Processing
Early years Maths pack/Top Marks games to develop learning
iPad - using apps to develop learning, using camera to record their learning
Chatterpix App
PhotoComic App
Welcome to Primary 2!
We hope you enjoy looking at our class page.
P2 Term 1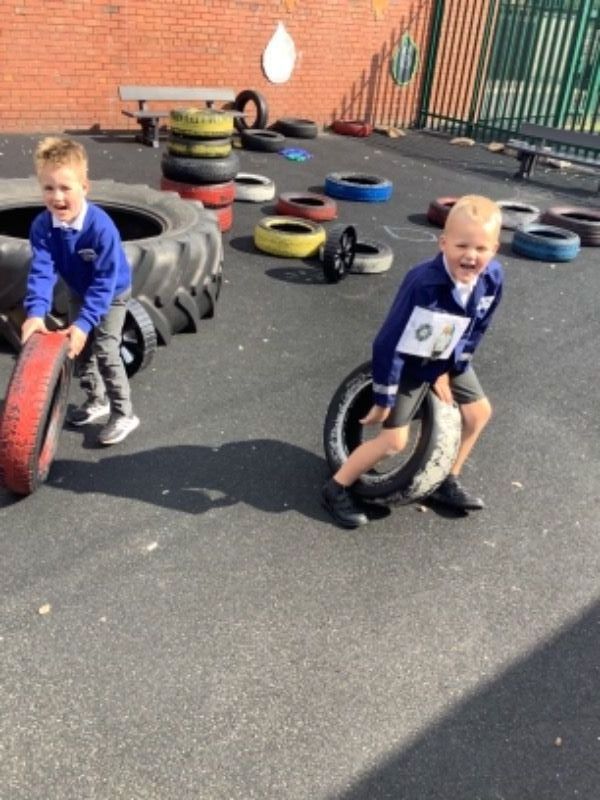 Investigating Shadows
Newcastle Primary School
17A Shimna Road, Newcastle
Co.Down BT33 0AS
(028) 43 722559

WEBSITE BY: SCHOOLWEBDESIGN.NET | Login